Hi lads,
i decided to write a new updated guide including all recent changes and additions. This guide is a useful addition for new people or old people who need some help.
This is not laid down to only use it that way. You are always welcome to experiment with setups and configurations. 
This guide will show you:
How to log into the bot

How to set up the bot

Alle features explained

Examples and recommendations

But the most important tip is:
Try to get a deeper understanding, learn the bot, learn from errors and failures, try and repeat and use your growing knowledge about botting and you will always get better results!
This plus the tutorial will help you in almost every situation!
Legend:
RPM = Request per minute               TOTW= Team of the Week
ms = millisecond
BIN = Buy it now
BID = Buy by bidding
1. The Login: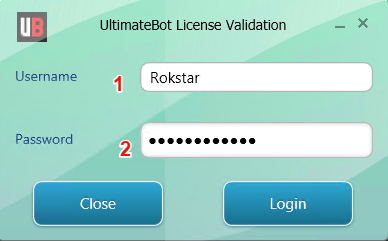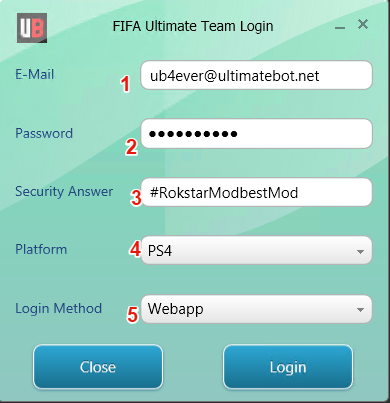 1: Enter here your Username from your registration which you used                               1: Your Email from your Origin / EA Account, the Webapp Account you want to use.
    in the Userportal.                                                                                                         
                                                                                                                                       2: Your password from your Origin / Ea Account, the Webapp Account.
2: Enter here your password from your Userportal
                                                                                                                                       3: Your security answer from your Ultimate Team
                                                                                                                                       4: Your platform you play on.
                                                                                                                                       5: Choose your login Method. We have Webapp and Mobile Login.
2. Bot overview: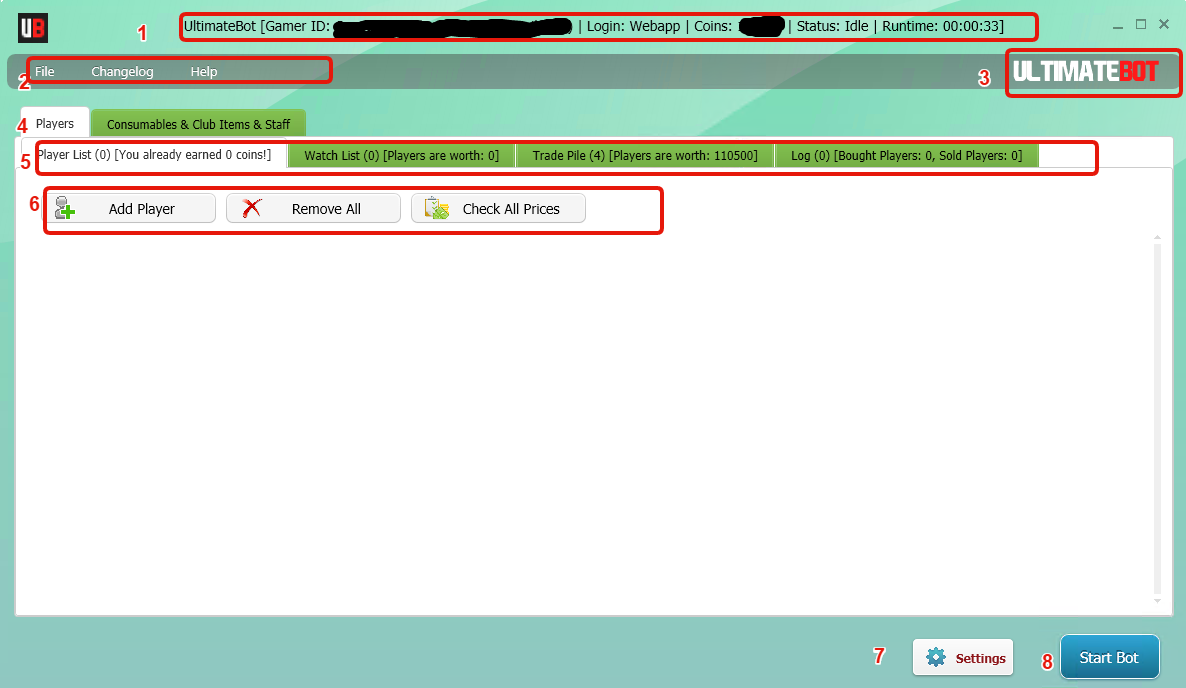 1: This is your Statusbar. It shows the Account, the Loginmethod, your Cointotal, the Botstatus and the Runtime.
2: The Toolbar. You can save and load your lists. View the Changelog or get any help, such as Support, Tutorials and FAQ.
3: This redirects you directly to the Ultimatebot Website.
4: This are your tabs of the bot, the first tab is for playercards, the second tab is for Consumeables and Kits and Co.
5: This is your realtime status, it shows your tradepile size, your coins your log of the bot's history in that session. It also has the watchlist, when you use the bidding function!
6: Here you build your playerlist. You can add remove player or check all prices of them manually.
7: Click here to change your settings.
8: The Start button!
3. Adding player to your list: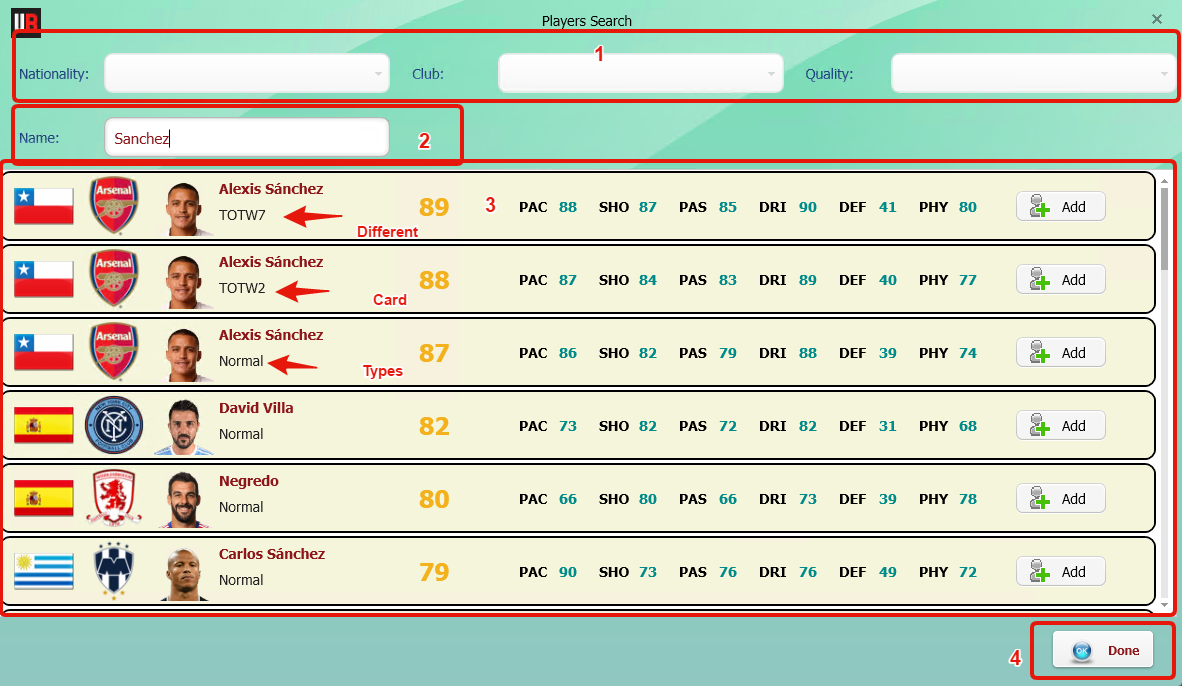 1: Here you search the player by specific options such as Nationality, Club or by name. (Currently Disabled)
2: This is Database. It shows you the Player with his stats and the "add" button.
3: The Add Button to add your player.
4: Click here to finish your list.
You now do find directly all different Cards of a specific Player (TOTW MOTM, Hero Editrion...) by typing his name.
3.1 When you click on "add"
Position:
You can choose any ingame Position here.
Chemistry:
If you want to bot for specific chemistry styles on your card, you can select it here.
Buy Price / Sell Price:
You can enter a specific buy and sell price here.
Buy % / Sell %:
You can set here the numbers for the %, which the bots buys your card and sells your card for. This number will be calculated when you hit the "check Price" button.
3.2: Added player in a List: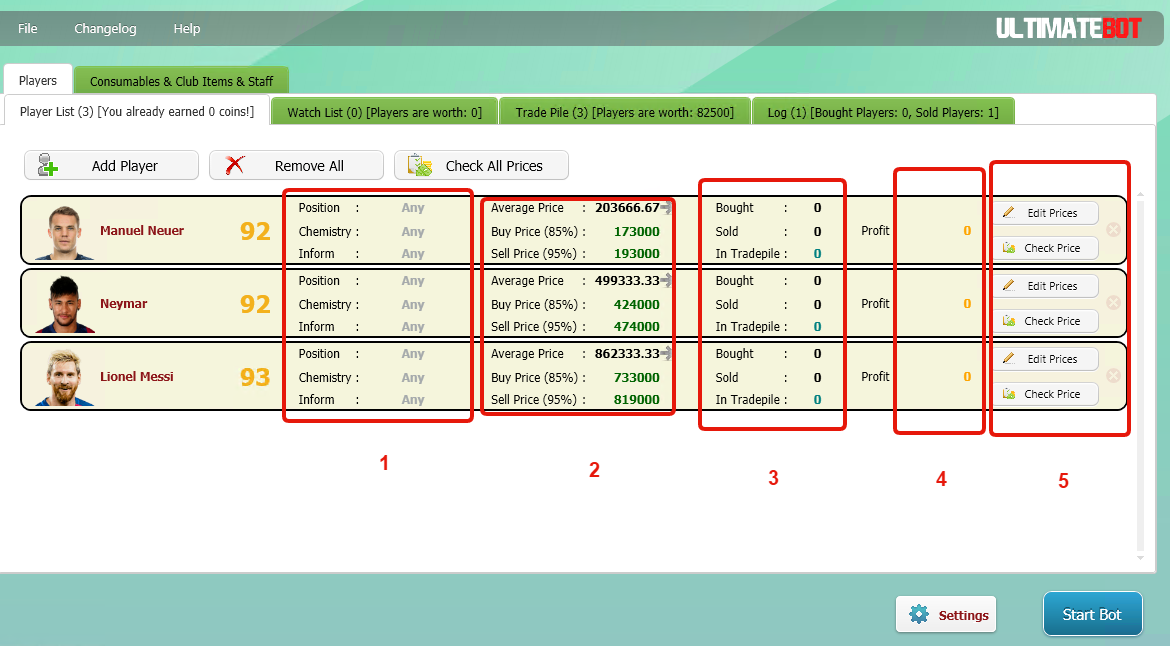 1: This is the overview of your special selections. If you pick a chemistry style or an Inform, it will be shown here.
2: This is calculated Price from the bot, measured by your percentage you put in.
3: This shows you the statistics.
4: The profit!
5: if you want to change a price manually or you want to pricecheck a card, you can do it here!
4. The Settings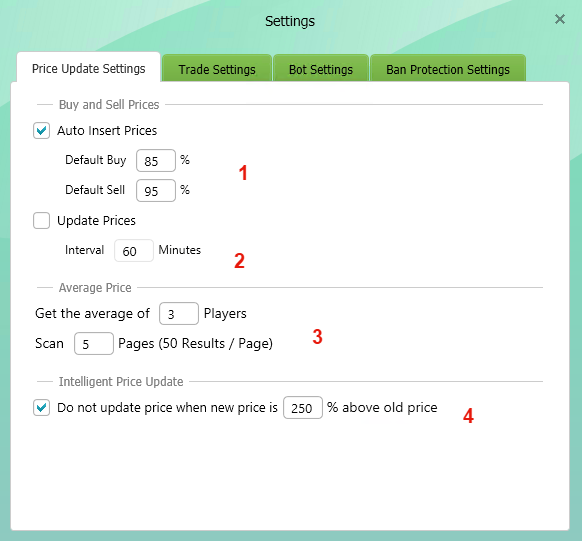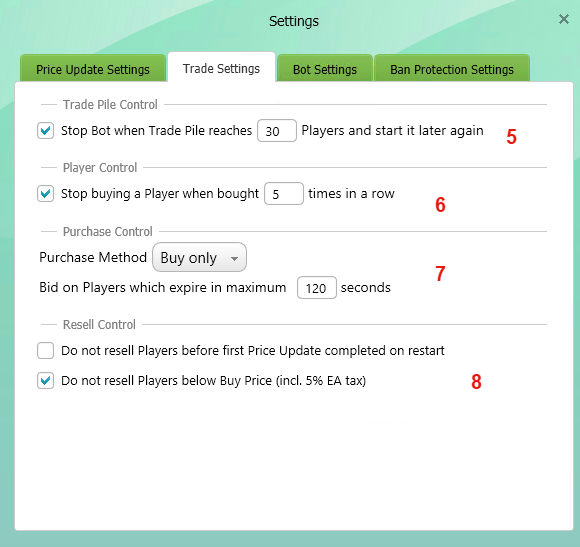 1: The Price percentage. Click the check and insert your Percentage you want to bot with. THe bot automatically uses this Percentage for your session.
2: Price Update scheduler. Hit the check and set the Intervall. The bot will automatically do a pricecheck every X minutes.
3: Average price calculation. Insert here the number for the amount of players, from which the bot calculates an average. You can also set the Number of pages he scans for. More pages     = longer pricecheck because of longer time. But more accurate prices.
4: Intelligent price Update. The percentage prevents you from overbuying cards or run into pricefixes. Hit the check to activate and insert a number to adjust it to your level.
5: Tradepile limitation option.Insert a number for your maximum of items you want to buy. 
6: Player control. Insert a number for your maximum items of a specific player your want to buy.
7: Purchase control. You can select Buy only / Bid only / or BOTH
(only available in platinum license!)
. You can set your watchlist timelength. This sets the time when 
    a player is added by the bot on your watchlist. This is necessary when you activate the BID mode. 
8: Resell control. Hit the check for not reselling / listing a player until the pricecheck is done. This is helpful after a new start of the bot. Hit the check for no resell below buy price. If a           player dropped in price and you have some on the tradepile, the bot will stop listing it and relists only if the price has risen to a level where you make profit. Inluding the        
    EA tax of course.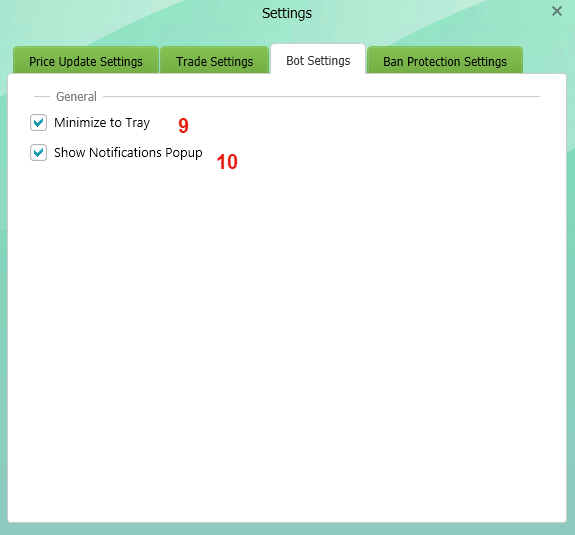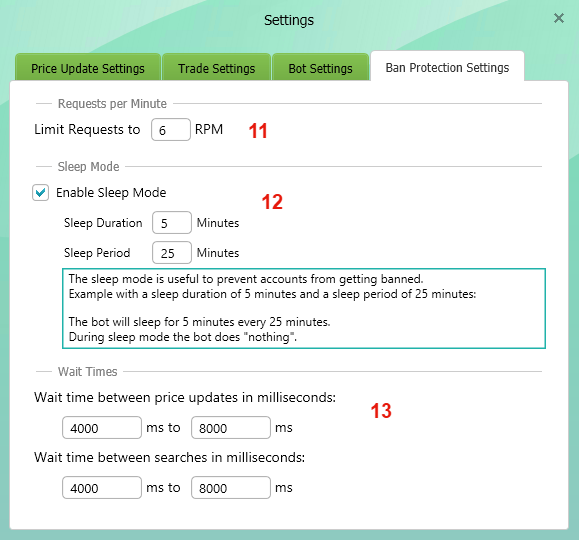 9: Hit the check to allow the bot to minimize it to tray.
10: Hit the check if you want popup notifications of your buys and sells.
11: RPM, set them to your desired level.
12: Sleep Mode. Hit the check if you want the bot to perform a sleep mode. He will stop botting and doing nothing (sleep) when you activate it. There is an example also implemented.
13: Wait timers. Enter here your desired waiting timers. We have waiting timers between searches and between price updates. this let the bot look human. he will pick a time of your             selected range and wait for that time before it perform the action. 
If you followed all suggestions and read carefully all the explanations, you should now be ready to use your bot. Hit the magic "Start Button" and let the bot do the rest!
5. Q and A:
Q: Are my settings and playerlist good?
A: I can check both to see whether there are any issues. Please ALWAYS use Gyazo (
https://gyazo.com/
) to screenshot your data for me. That way I can help you quicker. :-)
Q: What settings/players do you suggest?
A: I suggest to use 3-10 players. Preferably below 6k. Buy somewhere around 86-90% buy, sell close to 100%. 3-5 RPM.
Q: What can I do when the bot doesn't check the prices?
A: Check on the web app whether your account is fully unlocked to buy/sell.
Q: I can't login: ''Something went wrong''. What can I do?
A: Please read here:
https://ultimatebot.net/faq.php#3-2
Q: I do not get a verification code, what can I do?
A: Try to use the authenticator app for your phone. That's usually a lot quicker. 
Q: The web app says I have to play more games to unlock my account.
A: Play a few games a day on Ultimate team online to unlock your account after 2-3 days.
Q: I want to run more than one Bot. How do i setup multiple Accounts?
A: Make a new bot folder. Download a fresh version from your userportal, unzip end extract it in the new folder. Login with the new account. Please dont copy and paste existing botfiles into it.  This may cause problems. Always use the unzipped version from your userportal. 
Enjoy this little tutorial and ask here if you still have Questions.
Cheers Rok
The VPS of my Choice: VULTR VPS including a 20$ trial!
(get it fast, the 20$ promo ends soon!it will revert back to 10$, because it is a summer promotion offer with a limited time)
- fast and reliable
- 2ms ping to ea fut servers (Location London)
-> sign up over my link and you get 20$ extra, after you used your server for 30 days.